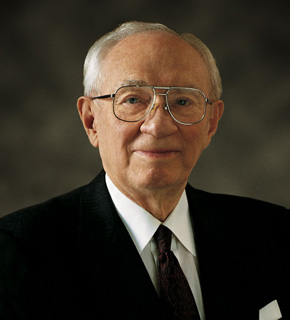 1. Gordon B. Hinckley- This Glorious Easter Morn (April 1996) 
"There is nothing more universal than death, and nothing brighter with hope and faith than the assurance of immortality. The abject sorrow that comes with death, the bereavement that follows the passing of a loved one are mitigated only by the certainty of the Resurrection of the Son of God that first Easter morning."
2. Russel M. Nelson- Thanks Be to God (April 2012)            "Central to God's eternal plan is the mission of His Son, Jesus Christ.11 He came to redeem God's children.12 Because of the Lord's Atonement, resurrection (or immortality) became a reality.13 Because of the Atonement, eternal life became a possibility for all who would qualify. For the Atonement of the Lord and His gift of resurrection—for this sublime message of Easter—thanks be to God!"
3. Thomas S. Monson- The Race of Life (April 2012) 
"As the result of Christ's victory over the grave, we shall all be resurrected. This is the redemption of the soul.
In one week we will celebrate Easter. Our thoughts will turn to the Savior's life, His death, and His Resurrection. As His special witness, I testify to you that He lives and that He awaits our triumphant return."
4. Dieter F. Uchtdorf- The Gift of Grace (April 2015) 
 "On Easter Sunday we celebrate the most long-awaited and glorious event in the history of the world. It is the day that changed everything. On that day, my life changed. Your life changed. The destiny of all God's children changed. When I think of what the Savior did for us leading up to that first Easter Sunday, I want to lift up my voice and shout praises to the Most High God and His Son, Jesus Christ! The gates of heaven are unloced! The windows of heaven are opened! Today and forevermore, God's grace is available to all."
5. Jeffrey R. Holland- Where Justice, Love, and Mercy Meet (April 2015) 
"The simple truth is that we cannot comprehend the Atonement and Resurrection of Christ and we will not adequately appreciate the unique purpose of His birth or His death-in other words, there is no way to truly celebrate Christmas or Easter- without understanding that there was an actual Adam and Eve who fell from an actual Eden, with all the consequences that fall carried with it."
6. M. Russel Ballard- The Essential Role of Member Missionary Work (April 2003)  
"Brothers and sisters, Easter is a time when the Christian world focuses on the Resurrection of our Lord and Savior Jesus Christ. That one moment in time changed everything forever. The Savior broke down every barrier that stood in the way of our return to a loving Heavenly Father."
 7. Lance B. Wickman- Today (April 2008)
"I am profoundly grateful for the Redeemer of Easter morning, who grants us life, whose descent below all things makes possible our rising above all things-Tomorrow, if we but seize Today."
8. Henry B. Eyring- Act in All Dilligence (April 2010) 
"When I find myself drawn away from my priesthood duties by other interests and when my body begs for rest, I give to myself this rallying cry: "Remember Him." The Lord is our perfect example of diligence in priesthood service. He is our captain. He called us. He goes before us. He chose us to follow Him and bring others with us. This evening I remember Him, and it stirs my heart. This is the Saturday night before Easter Sunday, when we remember His resurrection. I remember His example in the days before. Out of love for His father and for us, He alowed Himself to suffer beyond the capacity of mortal man."
50% OFF all SMILE Products Today Only!
For those that don't know, S.M.I.L.E. stands for "spiritually minded is life eternal" that comes from 2 Nephi 9:39. This is a perfect gift for the grandchildren, missionaries, baptisms or any other special occasion that you may be having."